They often say it is the best time of your life in your school days, and as much as we might disagree (after all, who wants to go back to having homework every night and maths for several hours a week!) we can't deny that there is something exciting and brilliant about getting back together with all your old classmates, especially so many years on, and seeing what everyone is now up to and what they've made of their lives. For the graduating class of '10, that excitement had certainly built over the last few years as they were due to celebrate a 10-year reunion in 2020 which was then cancelled for obvious reasons. While it may have looked initially like they would then wait again until a 15- or 20-year milestone, the enthusiasm for the 10 year was so great that once restrictions had passed and confidence in events had returned they went straight to planning a belated reunion. Hog Roast Barnsley were in attendance to provide the event catering!
Of the ~200 strong class 160 returned their rsvp's meaning we had quite the feast to prepare indeed! Opting to host their reunion in their old school's gym main hall, guests were welcomed with an entry drink of prosecco or juice and a selection of canapés were served around the room by the Hog Roast Barnsley team as ex pupils of '10 and old friends reunited and caught up. Our pan seared beef fillets, mini quiches, selection of mini-Indian bites, chicken satay skewers, and tomato and halloumi skewers went down a treat!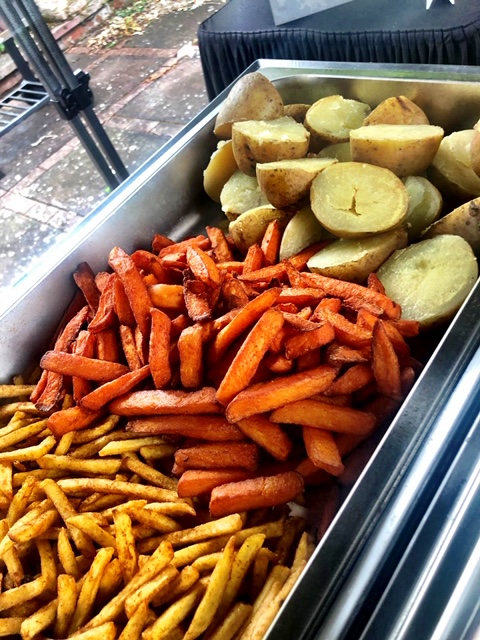 Once guests took to their seats the Hog Roast Barnsley team served out the starters to tables, with a choice for guests of either our homemade lentil soup served with crusty bread rolls and butter, or our roasted breast of Gressingham duck served pink as it should with seasonal leaves and orange and pomegranate dressing. Starters were followed by our buffet with guests able to peruse as they liked, choosing from our whole roasted pork, whole roasted turkey, handmade gourmet burgers, bbq jackfruit, fries, roasted new potatoes, homemade coleslaw, seasonal mixed leaves, caser salad, and plenty of crusty bread rolls and wraps.
Dancing and plenty of drinking and catching up followed suit, and to close the night Hog Roast Barnsley served tea, coffee and mints before we packed up and left the final partiers to it!