The Hog Roast Settle team have been very busy over the past few months catering for all of the weddings that had to put on hold during the pandemic, including the last wedding we catered for this week. It was originally supposed to be a summer wedding last year but couple Ben and Ruth decided  to postpone it for a year and in the process decided to opt for an intimate autumn wedding instead!
Tweaks to the couple's original menu choices and a change in venue, as well as the change in date was no problem for the versatile bunch here at Hog Roast Settle and Ben and Ruth were delighted with the wedding package that we designed for them!
We spent the morning freshly preparing all of the elements of their wedding menu from scratch within the elegant wedding marquee decorated in warm gold and orange in keeping with the autumn theme. The couple asked us to provide a canapé and drinks receptions before showing the 50 guests to their seats to enjoy a hearty hog roast centrepiece served with all the trimmings along with locally sourced seasonal veg and rosemary and garlic roasted potatoes.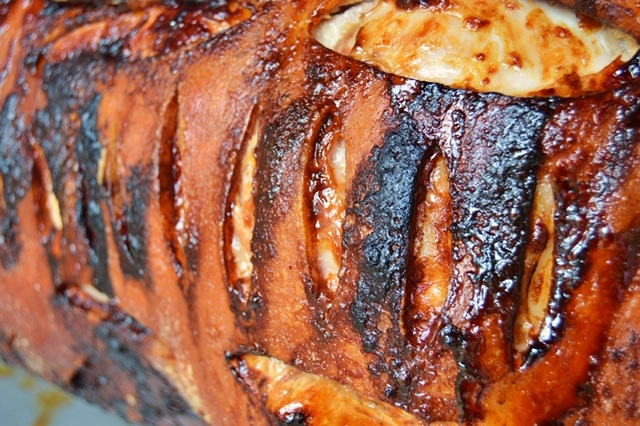 By the time the wedding guests arrived, we were ready to greet them with platters of our carefully crafted handmade canapés, which included pan seared fillet of beef with mini Yorkshire puddings, roasted halloumi and tomato crostini, and smoked salmon. After the toasts were made and the canapés enjoyed, the happy couple and their guests were soon seated and looking forward to the main hog roast meal, followed by a delightful duo of desserts, all served with a flourish and right on time by our enthusiastic and highly experienced wedding catering team!
The newlyweds and their guests loved the flawless food and service and for our part, we loved being able to contribute to the warm and upbeat atmosphere in the marquee with our extremely well-received wedding menu!
Ben and Ruth, and all of their friends and family may have had to wait a lot longer than they expected to watch the couple tie the knot, but when their special day finally arrived, it definitely lived up to everyone's expectations and the Hog Roast Settle team were thrilled to provide the catering for such a lovely occasion!