Hog Roast Silsden introduced our amazing Alfresco menu earlier this year and it's now enjoyed by many customers, both old and new, for all kinds of special occasions, including wedding receptions, birthday celebrations and corporate gigs. No matter what kind of party or event you may be planning, this three-course, Italian-style standalone menu that we designed is suitable and will be a big hit, and with plenty of food served, everyone will be more than satisfied on the day.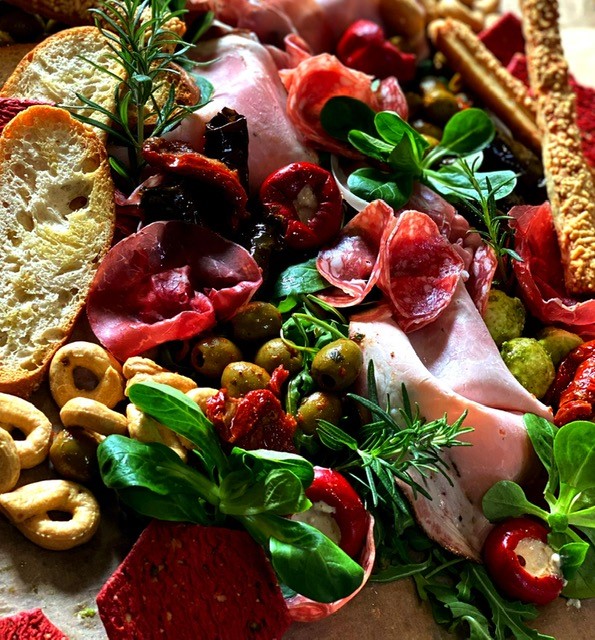 We arrive at your venue several hours before service, as it takes time to perfect a hog roast that sizzles away slowly but surely until we get tender, soft meat that melts in your mouth and crispy, salty crackling that we serve along with our homemade duo of apple sauce and sage and onion stuffing. First of all, however, while the meat has a rest, our Hog Roast Silsden team serve your antipasti platters to the tables, where you'll see a fine selection of meats and cheeses, including salami, prosciutto Parma ham, Parmagiano, Gorgonzola and buffalo mozzarella, to enjoy with herb focaccia, ciabatta, breadsticks, extra-virgin olive oil and balsamic vinegar. When it's time to devour your hog roast main, you'll not only get moist meat, crunchy crackling and tasty trimmings to dine on but also your choice of roasted new potatoes or buttered new potatoes, a tomato and mozzarella salad, a selection of seasonal leaves and our gourmet coleslaw, as well as fresh bread rolls and wraps. We provide both white and wholemeal but you can also request gluten-free ones if needed too. Then it's time for dessert and you get to decide on the two to be served, such as profiteroles and cheesecake or tarte au citron and summer pudding.
Our Alfresco Menu features a starter of antipasti platters, a traditional hog roast centrepiece main and then a choice of desserts and if your mouth's already watering at the thought, read on to discover more about this gorgeous feast! You can even add options for special diets if needed – just let us know when you book.
For this delicious menu and much more, call Hog Roast Silsden today and we'll get you booked in.