While delicious food can be enjoyed all year round, many meals and dishes are seasonal. Summer catering is often packed full of bright and tasty ingredients, such as vibrant vegetables and delicious fruits. This makes for incredible catering that can be created with fresh and locally sourced ingredients. Here are some of our favourite Hog Roast Kelfield summer catering trends for 2021…
Get creative with canapes
Often, we presume that canapes are only suitable for large-scale, formal events- but this is definitely not the case! Offering canapes allows you to serve a large selection of small dishes to your guests, which provides a great variety of tastes and textures. Canapes are perfect for events of any size and Hog Roast Kelfield have a long list for you to choose between. Some of our most popular options include mini fish and chips, salmon, and duck breast.
Fresh fruits with dessert
Fruit is an excellent dessert option for summer since there are so many seasonal fruits available to you. You can choose to serve a fruit salad as the main dessert, or serve berries and fresh cream with other desserts, such as cheesecake or profiteroles. At Hog Roast Kelfield events, our guests love to receive fruit along with their dessert as it improves overall presentation and looks and tastes delicious.
Charcuterie boards
Charcuterie boards are very on-trend at the moment, and we expect that they will continue to be popular throughout summer. With a charcuterie board, your guests can try a variety of different luxury cheeses, meats, crackers and vegetables, presented beautifully on a wooden board. Hog Roast Kelfield offer these delicious boards as the starter for our alfresco menu,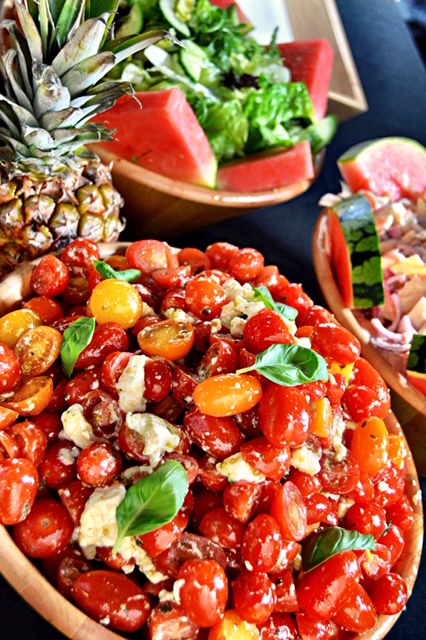 which each table of guests receiving a large platter to share.
Are you in need of a caterer for your event this summer? If so, get in touch with Hog Roast Kelfield today! We have a catering menu to suit every event, ranging from corporate meals to private parties and weddings. To find out what we can offer for your event, simply get in touch today to find out more.