Hog Roast Dinnington had the wondrous pleasure of catering for the lovely Mr and Mrs Foster The Foster's were celebrating their 20th wedding anniversary by reliving their wedding day and renewing their vows. Joe and Maggie had even secured the church that they had got married in so many years ago.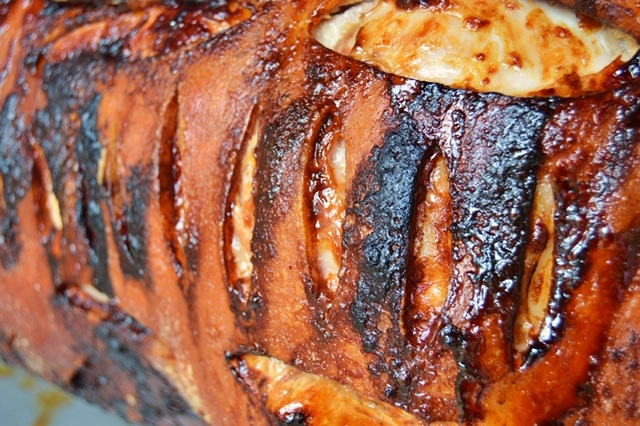 As they had 20 years ago, Mr and Mrs Foster decided on a spit-roasted pig with herb-buttered new potatoes and three salads. Due to the nature of spit-roasting a whole pig, Hog Roast Dinnington's team arrived on site 8 hours before. The early arrival ensured the pig would cook for the full required 6 hours, giving the team time to set up and sort everything out. All of Hog Roast Dinnington's dishes was prepped and cooked fresh on site. The whole pig turning and cooking on site provided a fabulous theatre for the guests as they could watch how their dinner was being prepared, and the smell of the pig cooking made the guests bellies rumble in anticipation of their flavoursome meal.
Joe and Maggie's daughter's family were vegetarians who eat fish; also known as pescatarians. The vegetarian option was Hog Roast Dinnington's colourful and tasty Halloumi skewers made up of a variety of Mediterranean vegetables and generous chunks of 'squeaky' cheese. In addition to this delicious dish, Joe and Maggie had requested for a whole salmon to be served to give their daughter and her family more option. The addition of salmon is a popular choice on many bespoke Hog Roast Dinnington's menu. The whole salmon was oven cooked with fresh thyme, rosemary and lemon wedges for 40 minutes. It was served at the celebration cold on a bed of curly endive and romaine lettuce and dressed with cucumbers tomatoes and tasteful lemon and chilli sauce. The appearance of the salmon and it's delicious aroma saw many guests wanting a taste!
The wedding breakfast was served quickly and efficiently. The quick and efficient service meant that everyone was able to eat together all at once rather than staggered. Hog Roast Dinnington thoroughly enjoyed catering for such a lovely couple and was honoured being part of such a special celebration.